STRIVE FOR FIVE
STRIVE FOR FIVE developed naturally from originally just plans to hold a party into a calendar of awareness and fundraising activities with lots of Steve's friends and community involvement.
The objectives of STRIVE FOR FIVE are:
To support Steve as he strives to pass the 5-year survival mark
To raise awareness of bowel cancer
To give hope to people with advanced bowel cancer
To raise funds for the charity Beating Bowel Cancer
Steve wants STRIVE FOR FIVE to show the world that bowel cancer can be successfully treated and that people with bowel cancer can lead fulfilling and fun-filled lives.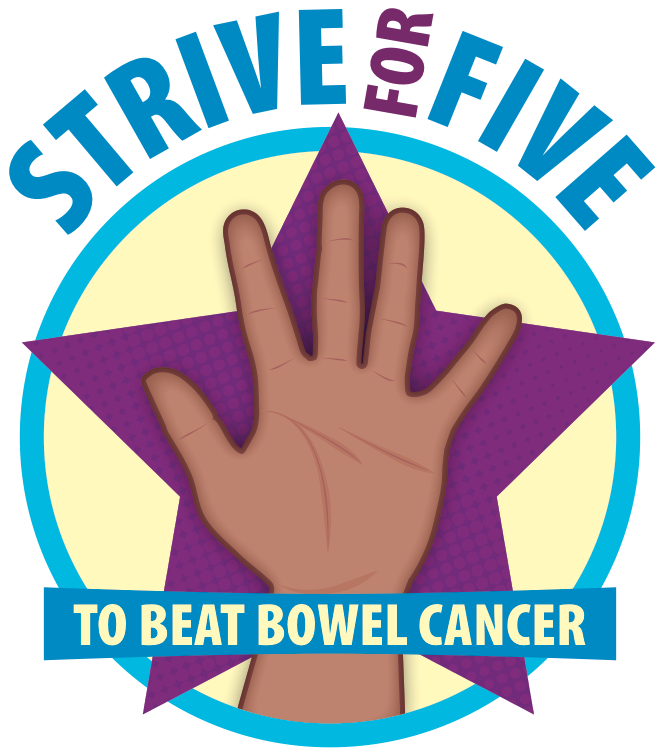 Steve's Story
Steve was diagnosed with Stage 4 (advanced) Bowel Cancer in June 2013. Since his diagnosis he's not only taken the disease on, but has also been active in helping others with bowel cancer. Steve volunteers for the charity Beating Bowel Cancer as a Patient Voice, a Forum Moderator, a Campaigner and a Fundraiser. He hopes that sharing his story can help others tackle this disease positively.

The Charity – Beating Bowel Cancer
All funds raised will go to the charity Beating Bowel Cancer. This is a small but amazing organisation that does so much good work to help people like Steve on their bowel cancer journey. Beating Bowel Cancer is the support and campaigning charity for everyone affected by bowel cancer.
Providing practical and emotional support for the growing number of people affected by bowel cancer
Promoting early diagnosis of bowel cancer
Campaigning for the highest quality treatment and care for bowel cancer patients
Beating Bowel Cancer provides support directly to patients, their carers, friends and family in a variety of ways including booklets and factsheets, the only dedicated bowel cancer nurse helpline and the online patient forum.
STRIVE FOR FIVE Activities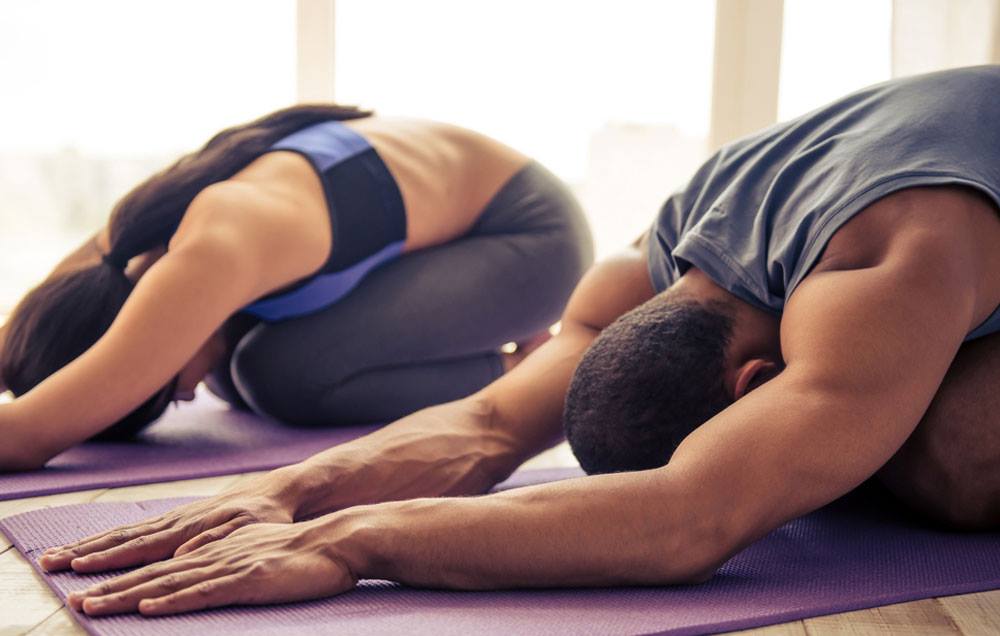 Improving Digestive Health Through Yoga
On 4 February, join Nikki Kenward for this unique workshop. This workshop aims to expand your knowledge and awareness of what may be affecting your digestion other than food. Nikki will mainly focus on gentle, calming yoga during which she will chat through practical advice on other factors that could be affecting your digestion based on the latest published evidence. This is taking place at The Marlow Club and is open to members and non-members. Please call the reception on 01628 475709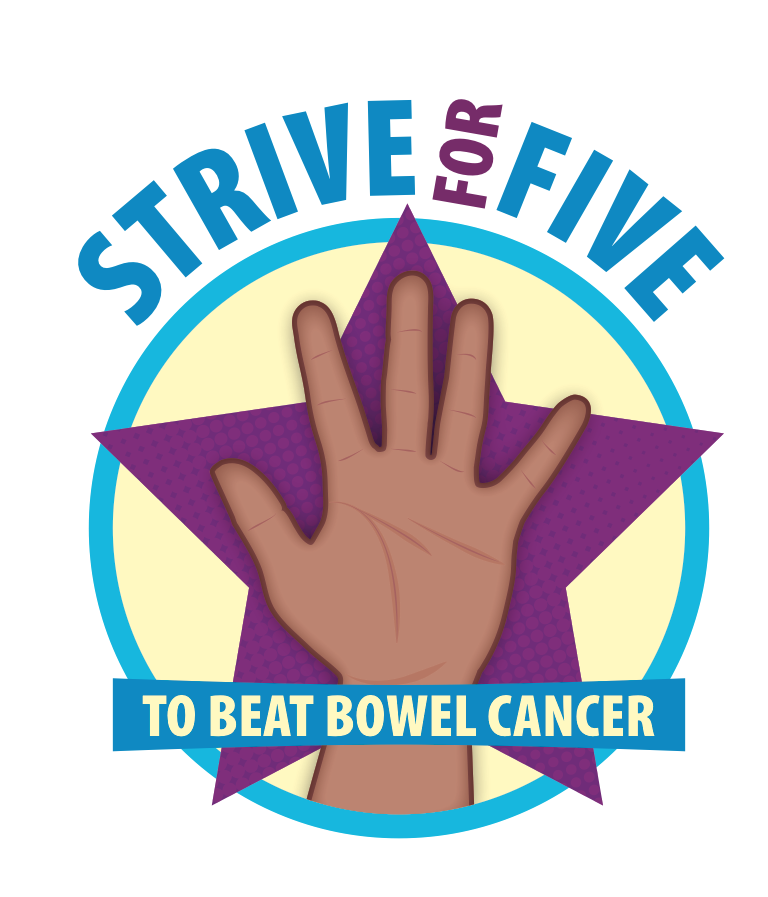 Lots of things being planned for Strive for Five in 2018. Most of these are currently 'save the date' but you can book for the digestive health workshop now.
14th JANUARY – Mince Pie Destruction – an intense and fun-filled 2 hour spin with 4 amazing instructors at The Marlow Club
4th FEBRUARY – Improving Digestive Health Through Yoga. A truly unique opportunity to learn about getting a healthy guy from a leading authority – Nikki Kenward at The Marlow Club. BOOK NOW FOR THIS ONE!
10th MARCH – yin yoga workshop followed by wine tasting. You can do either or both, enjoying yoga with two fab instructors and expert wine tasting at The Marlow Club
23rd JUNE – the Strive for Five Garden Party! We're finalising the details but can tell you it's going to be such fun with live music, great food and maybe even boat rides on The Thames! The venue is in Bourne End near Marlow.
More info to follow on these and lots more too!
Thankyou for supporting Strive for Five.
Steve and his friend and fellow patient Martyn Syzer are growing their beards for a full year which is going to be itchy and fun!
Rachel Brown is growing her already long mane of hair for another year before getting it cut off to be used to make wigs for children with cancer. She's getting sponsored to raise money for Beating Bowel Cancer through Strive for Five.
Updates
You can keep up to date with all the fun and successes of STRIVE FOR FIVE on Twitter and Facebook.
Get Involved
Find out how you can donate, participate and support STRIVE FOR FIVE.

Thanks
STRIVE FOR FIVE
simply couldn't happen without the help and support of so many wonderful people and organisations who have freely given time and resources to make this all happen. Steve would like to say a warm and deep felt thank you to everyone who has been involved at all stages:
Lovely Companies:
M&F Health – Communications
Grace Comms – Concept Design
OPEN Health – Website design
Lovely People:
Alexandra Legouix, Annabel …, Arooj Urwin, Beko Kaygee, Beko Kaygee, Brian Bower, Caroleee Leybourne, Anne Jansen,  Davinder Ojalla, Jane Clark, Kerena Lines, Michelle Livings, Nikki Kenward, Philippa Cahill, Rachel Brown, Sandy Royden, Sophie Juge, Steve Munn, Steve Smith, Tracey Henry, Vivien Campbell and Nicola Marie Rivers.